BenQ Malaysia has officially announced the availability of the BenQ EW3280U in Malaysia. It is a higher-end 32-inch entertainment monitor, coming in at a bangsawan-level price of RM2,899! Bangsawan-bangsawan sekalian, do you have your wallets ready?
---
The Bangsawan Specs
Along with the bangsawan-level pricing, we are of course expecting some bangsawan-level specs to justify it as well. So, what kind of monstrous specs will this beast have to justify its price?
As previously mentioned, the EW3280U is a 32-inch panel, and you can bet your bottom dollar that it is 4K UHD! With a size and resolution of this caliber, there is no doubt that you will be able to Netflix and chill on this monitor with bliss. Since it is an entertainment-focused panel, you won't find any crazy response times nor refresh rates. The IPS panel on the EW3280U has a GtG response time of 5ms and a refresh rate of 60Hz. Not to mention, it also supports AMD's FreeSync as well as 10-bit colour!
The monitor also comes with BenQ's own treVolo TrueSound. These are front-facing 2.1 channel speakers that provide an all-around great performance for bass, midrange and treble, according to BenQ.
To make your experience even better, it is Vesa DisplayHDR 400 Certified, which means the minimum peak brightness of the display while watching HDR content is 400 nits! When you're not watching HDR content, the brightness should be around 350 nits, which is still quite bright! Especially when a monitor like this is designed for indoor use and mostly by a single person, you don't really need it to be too bright. *wink wink*
---
HDR… i?
While on the topic of HDR, BenQ has implemented their proprietary HDRi technology into the EW3280U. The 'i' in HDRi means 'intelligent'. As BenQ claims, HDRi technology intelligently detects the current ambient light level and the image content. It will then automatically adjust the screen brightness for the ideal viewing experience. It also improves image contrast and clarity for greater detail, ensuring that you can see dark areas clearly while not overexposing bright areas. Finally, it also fine-tunes the brightness and colour for different HDR content such as games or video content.
Something interesting to take note, it also has an 'HDRi emulated' feature, which can emulate HDR-like effects on non-HDR content. This is done using BenQ's algorithms. Wow, even monitors are also using advanced algorithm nowadays!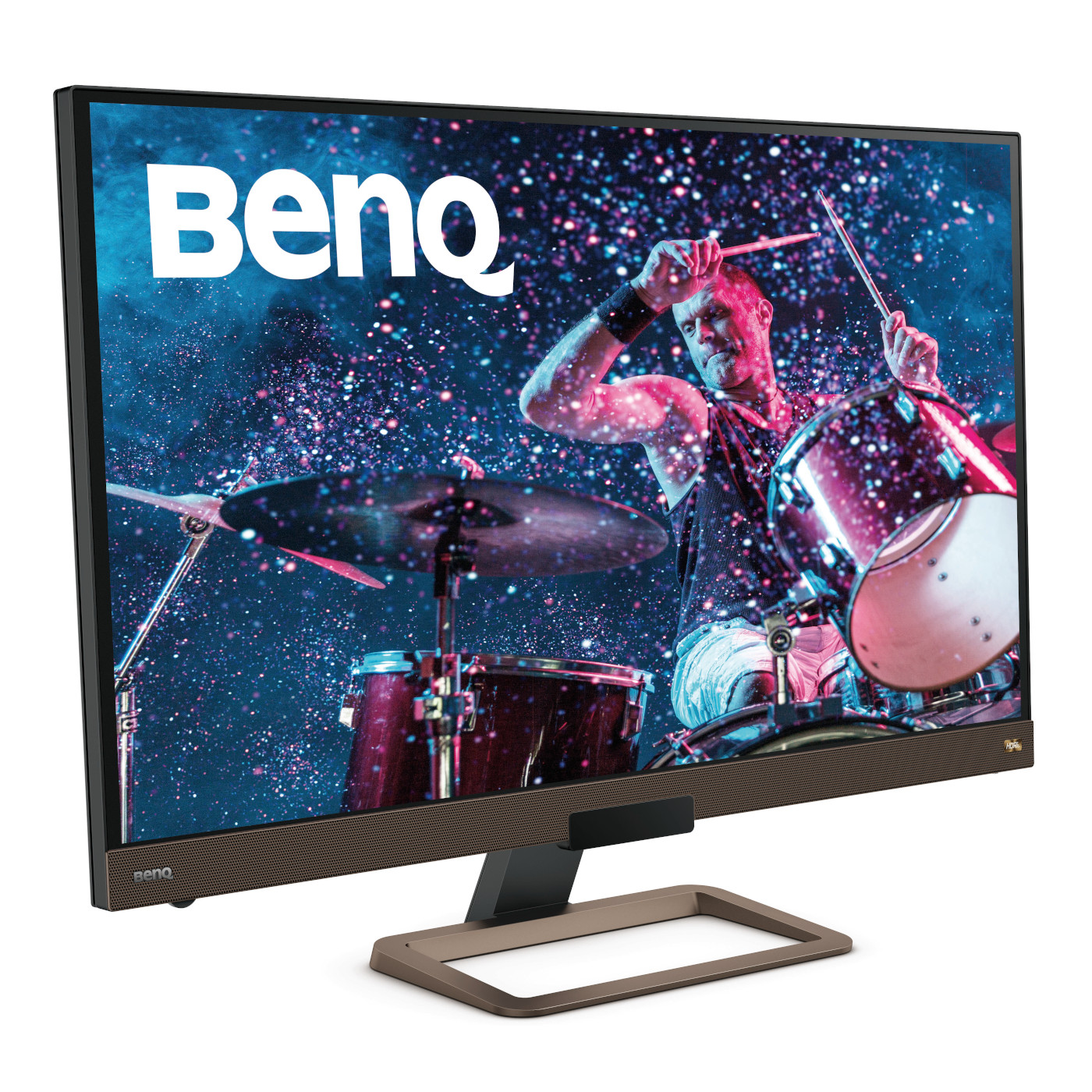 ---
Miscellaneous Features
Together with the EW3280U, BenQ has packed in a remote control. You can use it to control volume, switch inputs, toggle HDRi, and more! Other than that, there is also a 5-key nipple-style navigator at the back to toggle through the on-screen settings. Under the screen is a volume wheel to conveniently toggle the volume of the speakers.
As with most BenQ monitors, it also comes with BenQ Eye-Care, which is their solution to reduce eye fatigue while ensuring greater comfort after a long period of monitor use. For the input, it has 2 x HDMI 2.0, 1 x DisplayPort 1.4 as well as USB-C with PowerDelivery 60W support.
Overall, the design resembles a classic minimalistic BenQ design. It looks a bit more classy with the copper-brownish finish on the speaker grill and monitor stand. What do you think? Is the RM2,899 price tag worth it? Check out this monitor over at BenQ's official Lazada store!