After announcing its transition from Intel CPUs to Apple Silicon Chips for Macs, it seems like Apple has other plans brewing in the background. Posted by user Longhorn on Twitter, Apple is apparently working on making their own GPUs as well. Wait, what? What's going on?
Apple GPU In The Works?
Similar to Intel, Apple has been using AMD GPUs for its higher-end Macs for years. Apart from their transition to Apple Silicon on the CPU side, it is expected that Apple will continue using AMD GPUs as there were no mentions of other intentions.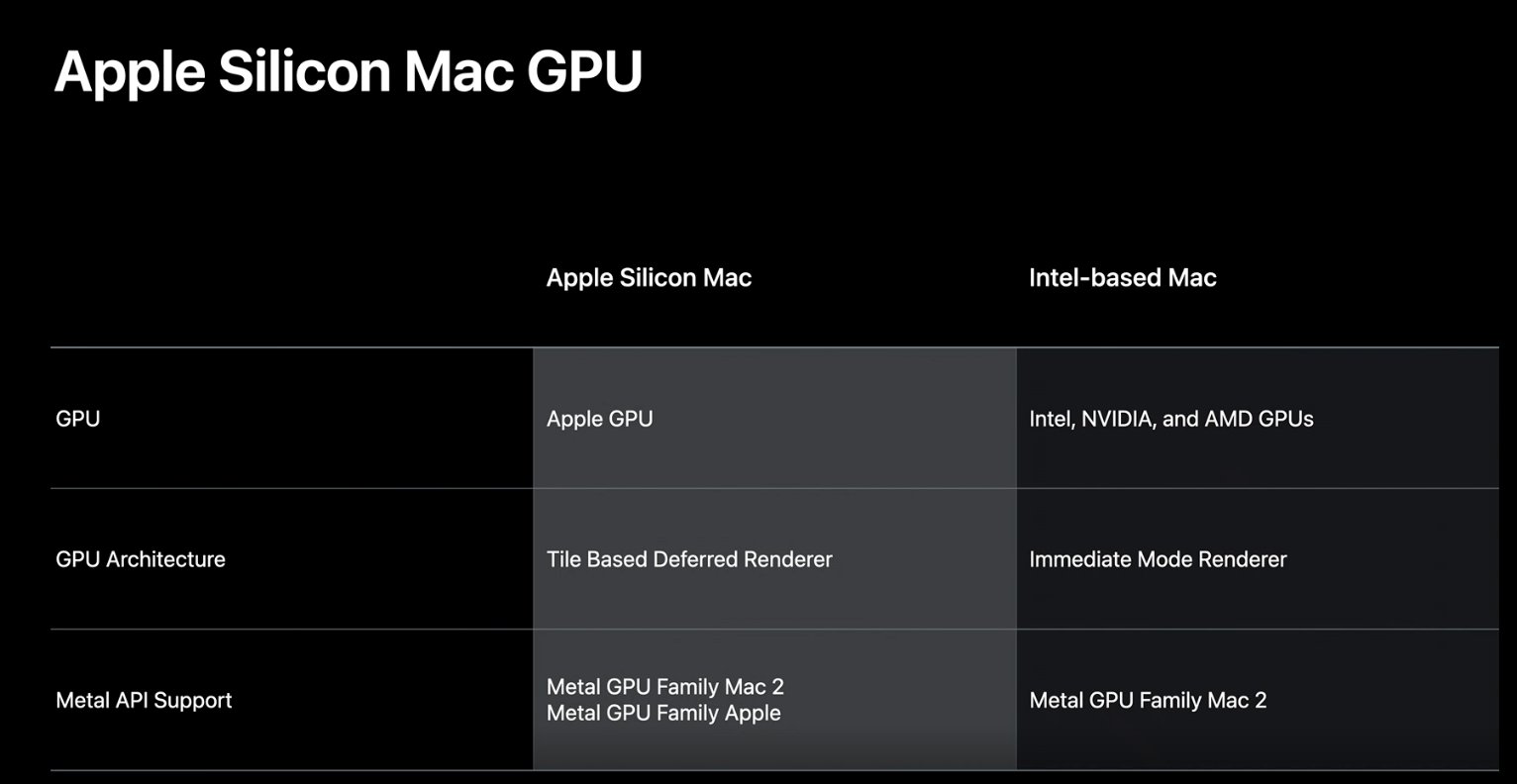 Upon further observation, Longhorn found a slide in Apple's WWDC presentation indicating that Apple will be using its own GPUs for Apple Silicon Macs.
This seems a little weird at first because Apple has not mentioned anything regarding an Apple Silicon GPU during its WWDC keynote. However, this might mean that it won't be happening anytime soon.
How Powerful Will Apple GPUs Be?
At this point, it should be clear that developing high-end GPUs are not an easy task. Just look at the amount of time and resources that Nvidia and AMD have put into developing their GPUs. Even Intel has poured much of its resources into the GPU division in recent times although they're still not quite there yet.
As of now, it isn't clear just how powerful Apple GPUs will be. But with the development of the GPUs being dedicated to Tile-Based Deferred Rendering (TBDR) and Apple's Metal API, there is a possibility that Apple can bring competitive performance with Apple Silicon. However, only time will tell.
When Can We Get Some?
While there aren't any mentions of Apple GPUs coming soon, if we had to make a guess, Apple would probably work their way up from lower-end parts such as lower-end Macbooks.
What do you think about Apple making their own GPUs? Will Apple continue to support discrete GPUs on ARM Macs when the development of its GPUs is finally completed? And what does this mean for gaming on Macs? Sadly, we can only wait for more official news.